RHAMESJAFACOSEYJAFADRAYTON
At OGR Torino the first Italian solo show of the US-American artist and filmmaker
OGR Torino announces RHAMESJAFACOSEYJAFADRAYTON, the first Italian solo show of the US-American artist and filmmaker Arthur Jafa, from 4 November 2022 to 15 January 2023.
The show is commissioned and produced by OGR Torino in collaboration with Serpentine and curated by Claude Adjil and Judith Waldmann with Hans Ulrich Obrist.
Arthur Jafa's dynamic practice comprises films, artefacts, and happenings, which tackle Black culture and experience in the US with unprecedented intensity and complexity. With a career spanning three decades as an artist, filmmaker, and cinematographer, Jafa's multidisciplinary works challenge and question prevailing cultural assumptions about identity and race through his immersive and experimental cinematic experiences. At the 58th Venice Biennale (2019), his outstanding work The White Album, featured in the central exhibition May You Live in Interesting Times, was awarded the Golden Lion for best presentation.
A recurring question underscores his multifaceted practice: how can visual media and objects transmit the equivalent "power, beauty, and alienation" that is embedded within Black music in the United States. An investigation also recalled by the title of the exhibition, RHAMESJAFACOSEYJAFADRAYTON, which mentions the names of three electric guitar players: Arthur Rhames (1957-1989), Pete Cosey (1943-2012), Ronny Drayton (1953-2020).
"We are proud to inaugurate, here at OGR Torino, the first personal show in Italy dedicated to Arthur Jafa, in collaboration with London's Serpentine. Looking at Jafa's works compels us to recognize crucial insights and questions on the issues of identity and inclusion that go beyond any geographical boundary. Art in this case takes on a global nature and expressive force, turning into a tool for participation and socio-political dialogue, through cultural institutions entrusted with providing the necessary amplification. With this exhibition, OGR Torino confirm their role as a platform for experimentation and, most importantly, an agora dedicated to open and constructive debate about the themes of our contemporary times" – says Massimo Lapucci, CEO of OGR Torino and Secretary General of Fondazione CRT.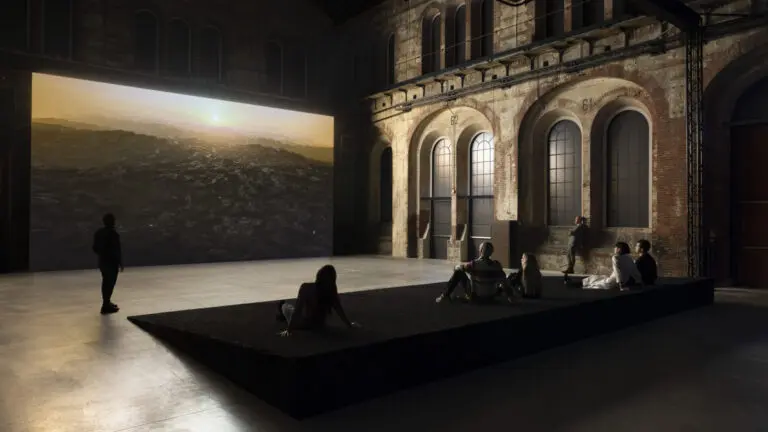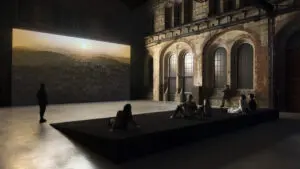 RHAMESJAFACOSEYJAFADRAYTON focuses on Arthur Jafa's latest video work AGHDRA (2021). This multimedia installation wraps the visitor in an 85 minutes long, computer-generated imagery of opulent and mesmerizing black waves, which evolve constantly under an eternal sunset. A state-of-the-art sound system makes it possible to not only hear the immersive installation's sound, but to experience it physically through vibrations. The sound simultaneously supports and interrupts this stream of consciousness viewer response. Lyrics from mostly Black popular songs like Love don't live here, live here no more (Rose Royce, Love don't live here anymore, 1978) amplify an evoked apocalyptic scenario.
Demanding multisensory engagement, AGHDRA is contextualized through a series of wallpapers, and prints, reflecting Arthur Jafa's ongoing research into Blackness. This section presents a selection of images deriving from his Picture Books – collections of found imagery that the artist started in the mid 80's, driven by the "obsessive" impulse "to push towards things that disturb me" and "not to pull back from them." These source books contain intense, beautiful, raw, surprising, terrifying, and thought-provoking imagery, which has found its way into Arthur Jafa's now iconic video works like Love is the Message, The Message is Death (2016), APEX (2013) and more recently Kanye West's (Ye) music video Wash Us In The Blood feat. Travis Scott (2020).
The exhibition was originally developed with Amira Gad. The newly developed iteration is part of Serpentine's tour of Jafa's exhibition A Series of Utterly Improbable, Yet Extraordinary Renditions, and was specially conceived by the artist for the cathedral-like space of OGR Torino.
Arthur Jafa previously exhibited at Serpentine in 2017 with his solo exhibition A Series of Utterly Improbable, Yet Extraordinary Renditions and has travelled to Julia Stoschek Collection, Berlin (2018); Moderna Museet, Stockholm (2019); Galerie Rudolfinum, Prague (2019); and Serralves Museum of Contemporary Art (2020). The exhibition took the form of a site-specific installation in which the artist transformed the gallery space with a series of new assemblages that encompassed film, photography, and found footage. During the 2017 exhibition at Serpentine, Jafa presented his film Love is the Message, the Message is Death (2016) in a site-specific installation at Store Studios, co-presented by the Serpentine Galleries and The Vinyl Factory. During the exhibition's final weekend, the artist also presented a Listening Session with Steve Coleman, Morgan Craft, Micah Gaugh, Melvin Gibbs, Jason Moran, Okwui Okpokwasili, and Kokayi Carl Walker which was followed by a limited vinyl edition released by The Vinyl Factory and Serpentine Galleries.
Over this period, the exhibition has continued to evolve, culminating in this latest collaboration with OGR, Serpentine, and the artist where the latest iteration of the work is presented. He has also been part of Serpentine's annual Park Nights series in 2017. Park Nights is Serpentine's experimental, interdisciplinary, live platform sited within its annual architectural commission, the Serpentine Pavilion.
The opening of RHAMESJAFACOSEYJAFADRAYTON has been accompanied by a musical performance that will engage with aspects of Arthur Jafa's practice, in particular its relation to the music scene and cross-pollination of disciplines and fields. Convened by Arthur Jafa, American jazz pianist and composer Jason Moran, cellist and composer Okkyung Lee and bass guitarist Melvin Gibbs has performed together on 4 November at 10.30 pm, in OGR's Duomo.
WORKS
Arthur Jafa
AGHDRA, 2021
4K video (sound, color and black and white)
Duration: 1 hour, 14 minutes, 59 seconds
Arthur Jafa
Ka-ba-ka-la, 2022
mixed-media Installation (okume wood, print on wallpaper, black acrylic, black steel rails, red steel pipes)
Arthur Jafa (b. 1960, Tupelo, Mississippi)
Arthur Jafa's films have garnered acclaim at the Los Angeles, New York and Black Star Film Festivals and his artwork is represented in celebrated collections worldwide including The Metropolitan Museum of Art, The Museum of Modern Art, The Tate, The San Francisco Museum of Modern Art, The Studio Museum in Harlem, The High Museum Atlanta, The Dallas Museum of Art, The Museum of Contemporary Art in Chicago, Stedelijk, Luma Foundation, The Perez Art Museum Miami, Los Angeles Museum of Contemporary Art, The Hirshhorn Museum and Sculpture Garden; and the Smithsonian American Art Museum, among others.
He has recent and current solo exhibitions of his work at the Moderna Museet, Stockholm; Museu de Arte Contemporânea de Serralves, Porto; the Louisiana Museum of Art, Denmark; Glenstone Museum, Potomac, USA; and LUMA Arles, France. In 2019, he received the Golden Lion for the Best Participant of the 58th Venice Biennale "May You Live in Interesting Times."
OGR Torino is an international hub of 35,000 square meters in the heart of Turin, dedicated to contemporary culture, innovation and business acceleration. In its OGR Tech spaces it sets up a whole growth and innovation community where applied research, startups and scaleups, SMEs and large corporations meet in a creative and dynamic environment, a network in dialogue with business excellence on an international scale. Since 2017, open and inclusive space, it welcomes visitors to OGR Cult with site-specific art exhibitions, musical events and projects developed with international partners. A constantly renewing hub that invites everyone to discover it.
INFORMATION
ARTHUR JAFA- RHAMESJAFACOSEYJAFADRAYTON
An exhibition by OGR Torino in collaboration with Serpentine
Curated by Claude Adjil and Judith Waldmann with Hans Ulrich Obrist
4 November 2022 – 15 January 2023
OGR Torino – Binario 1
FREE ADMISSION
Thursday and Friday, 6 – 10 pm
Saturday and Sunday, 10 am – 8 pm